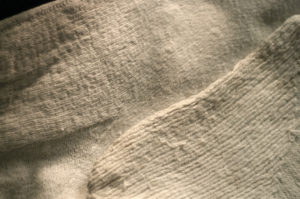 Running in Heels: How to save your soles. Well, heels really.
Some stockings were pre-darned as a reinforcement against wear. My stocking research was initially focused on the American Revolution era (1770 – 1783), but the extant stockings where I was seeing it were early 19th century. Did it exist earlier? I had heard that there were orders issued to soldiers, and researcher Steve Rayner found it in Cuthbertson:
‪"XXXVIII. The greatest uniformity should be observed, in the colour of the stockings, through a Regiment, as nothing more offends the eye, than a variety in this particular: white, besides being most showy, is the readiest colour to be obtained in all places; not will they be found so difficult to keep clean, as those of a greyish kind (which next to white, are the only coloured stockings, that can decently be admitted for a Soldier's wear) because the smallest application of the pipe-clay, used for the Accoutrements, effectually cleans them unless they are too far gone in dirt: four pair of stockings should at least be each Soldier's stock, three of which should be of fine yarn, eighteen pence a pair, and the fourth of thread; worth about two shillings and four pence, to wear on Sundays, and other particular occasions: all these stockings should be knit, being stronger by many degrees than wove ones; they must also be well shaped, long enough both in the feet and legs, and full large in every part: running them in the heels will strengthen them exceedingly, therefore every Soldier should learn that piece of oeconomy, as well as to mend his stockings, it being very praise worthy, besides saving him a constant expence."
‪P. 60, Cuthbertson, Bennett, "A System for the Complete Interior Management and Oeconomy of a Battalion of Infantry…" London, 1779.
Steve found that it also appears in the 1768 edition: ‪Cuthbertson, Bennett; "A System for the Compeat Interior management and Oeconomy of a Battalion of Infantry". Dublin, 1768.; Cited in Strachan, Hew; "British Military Uniforms, 1768 – 1796: The Dress of the British Army from Official Sources." Arms & Armour Press, London, 1975.
After some digging, a more readily available source to me was on my ookshelf, rediscovered after an online discussion. "What Clothes Reveal: The Language of Clothing in Colonial and Federal America" by Linda Baumgarten, cites the Sept. 26, 1748 edition of the New-York Gazette Revived in the Weekly Post-Boy for this:
"All sorts of Stockings new grafted and run at the Heels, and footed; also Gloves, mittens and Children's Stockings made out of Stockings; Likewise plain work done by Elizabeth Boyd, at the Corner House opposite to Mr. Vallete's."
The ad can also be found in "The arts and crafts in New York: advertisements and news items from New York City newspapers" by Rita Susswein Gottesman; an interesting source with all kinds of trade ads.
We have it dated at least back to 1748, yay! So what is running in heels, and how can you use it to extend the life of your reenactment stockings?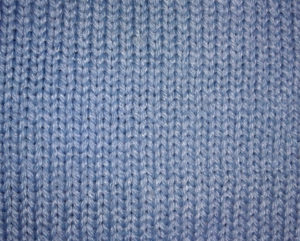 From the outside, plain knit yarns are in a series of "V"shapes.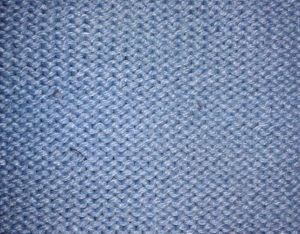 Inside, the yarns are horizontal. This is where you want to add the stitching.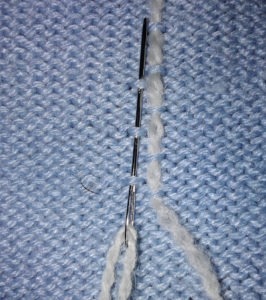 Using a tapestry, darning, or other blunt needle, go under the horizontal stitches on the inside of the stocking. This is done in a random sort of pattern. I'm using two different colors to illustrate, but originals use the same yarn, or same type of yarn, as the stocking was made from. Don't pull it too tight. That's all there is to it!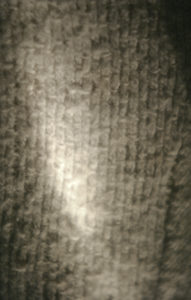 This example is an early 19th century stocking, a hand-knit stocking.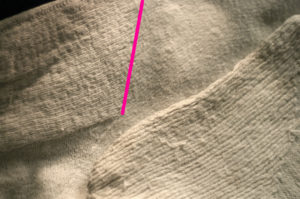 The edge of the running-in angles up from the gore, to cover the heel. This may have varied depending on the individual's wear pattern.
The outside of the heel (left) will end up with a nubbly appearance. That, and the area being thicker will tell you if your antique stockings are run in the heels. For some of my collection, I like to keep one rightside- and one inside-out, so I don't have to handle them too much.
A funny thing happened at the Museum of Costume & Textiles in Nottingham. After identifying some run-in heels on stockings, I was walking down a hall and happened to glance at a sampler on the wall. It had a piece of knit fabric patched in, and the run-in stitch was done on it. A lovely little bit of practice on this practical stitch!
© Carol Kocian and StockingFrameOfMind, 2001 — 2018. Unauthorized use and/or duplication of this material without express and written permission from this site's author is strictly prohibited.